Curriculum Policy Statement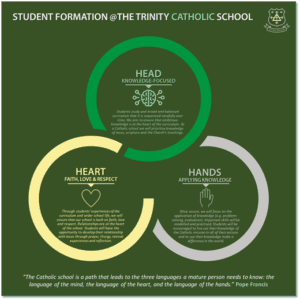 Our overarching aim of our curriculum is to educate the whole child so that students live out the teachings of the Gospel and the Catholic Church; we look to develop the students spiritually, morally, socially and academically. This is summarised in our 'head, heart and hands' student formation and curriculum intent statement (above).
Curriculum Structure
All students at The Trinity Catholic School follow a broad and balanced curriculum.
The Catholic Education Service/Diocesan requirement for 10% of curricular time devoted to Religious Education will be met.
Key Stage 3
Pupils study a broad and balanced curriculum in Years 7-9 providing a strong foundation for developing their knowledge further at KS4. We are careful to ensure that students' curriculum is not narrowed unnecessarily early.
All students study RE, English, Maths, Science, French, History, Geography, ICT/Computing, DT, Music, Drama, PE, Orchestra and Personal Development.
Pupils are taught in small teaching groups, particularly in specialist areas such as PE and DT. We offer unrivalled opportunities in music, where all students take up an instrument, play in an orchestra and learn to read music.
Key Stage Four
All students will study a core programme of RE, English, Maths, Science (separate or Trilogy), Geography or History. Students are then able to choose two option subjects from French, Computing, Art, Drama, Music, DT (Resistant Materials, Graphics or Food), PE, Dance and ICT (OCR National). Students of all abilities are able to access the Ebacc qualification.
All students take part in core PE and have personal development lessons.
Key Stage Five
Students in the Sixth Form typically study 3 A-levels in Year 12 and continue these courses into Year 13 or level 3 equivalent qualifications. In addition to academic qualifications, students take part in Religious Education lessons (Core RE). All students have personal development lessons.